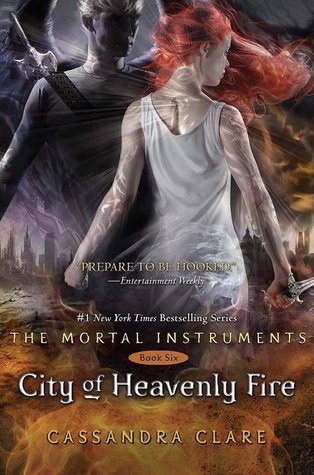 ISBN: 9781481426305
Published: May 27th, 2014
Publisher: Margaret K. McElderry
Read from May 28th to June 3rd, 2014
Synopsis from
Goodreads
:
In this dazzling and long-awaited conclusion to the acclaimed Mortal Instruments series, Clary and her friends fight the greatest evil they have ever faced: Clary's own brother.
Sebastian Morgenstern is on the move, systematically turning Shadowhunter against Shadowhunter. Bearing the Infernal Cup, he transforms Shadowhunters into creatures out of nightmare, tearing apart families and lovers as the ranks of his Endarkened army swell.
The embattled Shadowhunters withdraw to Idris - but not even the famed demon towers of Alicante can keep Sebastian at bay. And with the Nephilim trapped in Idris, who will guard the world against demons?
When one of the greatest betrayals the Nephilim have ever known is revealed, Clary, Jace, Isabelle, Simon, and Alec must flee - even if their journey takes them deep into the demon realms, where no Shadowhunter has set foot before, and from which no human being has ever returned...
Love will be sacrificed and lives lost in the terrible battle for the fate of the word in the thrilling final installment of the classic urban fantasy series The Mortal Instruments!
Review:
I've been debating for a while what to actually say in this review, particularly since I want to keep it spoiler free. For the most part, I just want to jump up and down and rant on and on in a way that would basically turn into a long recount of every single moment in the books. I guess that tells you something: I loved this book.
I thought this book tied up the series amazingly, and that's really all I think that needs to be said in the long run. I'm actually amazed because, while I usually enjoy endings of series, I feel like the last book always gets a decent amount of hate from some fans. I haven't seen that with this one. Everyone seems happy with it, and I know exactly why. This was just the way things needed to be wrapped up.
I'm happy that we'll be seeing at least some of the characters again in the next trilogy that's set in this universe. I was really sad about leaving these characters behind, so I like knowing there will be a bit more with them in the future. Oh, and we're getting Simon short stories, which has me unbelievably excited.
If you've read the other Mortal Instruments books and just not this one yet, then you're crazy and need to get to this book now. If you haven't read any of the series, then you need to get to that now too. It's weird to think about the journey I went on with this series because I was absolutely convinced I wouldn't like it much at first, and now it's definitely one of my absolute favorites. I'm so happy it had such a fantastic, emotional conclusion.