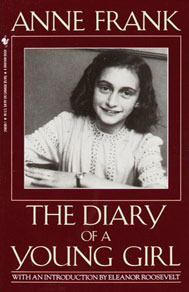 ISBN: 0553296981
Published: June 1st, 1993 (first published in 1947)
Publisher: Bantam
Read from August 5th to 13th, 2014
Synopsis from
Goodreads
:
Discovered in the attic in which she spent the last years of her life, Anne Frank's remarkable diary has since become a world classic—a powerful reminder of the horrors of war and an eloquent testament to the human spirit.
In 1942, with Nazis occupying Holland, a thirteen-year-old Jewish girl and her family fled their home in Amsterdam and went into hiding. For the next two years, until their whereabouts were betrayed to the Gestapo, they and another family lived cloistered in the "Secret Annexe" of an old office building. Cut off from the outside world, they faced hunger, boredom, the constant cruelties of living in confined quarters, and the ever-present threat of discovery and death.
In her diary Anne Frank recorded vivid impressions of her experiences during this period. By turns thoughtful, moving, and amusing, her account offers a fascinating commentary on human courage and frailty and a compelling self-portrait of a sensitive and spirited young woman whose promise was tragically cut short.
Review:
This is one of those books where I don't feel like I have much to say because everyone knows what it is and what it's about. I really enjoyed this book because it provides such a unique look at the war. I love that it's not fictional and presents someone's real experience, but I appreciate even more that it's in a child's prospective. To my knowledge, there's nothing else out there that's really similar. Yes, there are Holocaust survivors who have talked about it after the fact, but there's something special about having a first-hand account that a young girl wrote as it was all happening. The worst parts of Anne's experience weren't documented of course, but that doesn't mean that what we do have isn't valuable.
This wasn't one of those books that gripped me and pulled me in from start to finish because it's not a fictional story with some sort of overarching plot. It's just a diary that a young girl wrote in the middle of a war. I don't think it's something you really read for entertainment's sake, but it does help give you a real account of a real girl's experiences of war, and I think that makes it valuable in an entirely different way.
There's a bit at the end, in the afterward, that talks about how Anne got her wish to be remembered after she was gone because of the publication of her diary, and I love that. It's unfortunate that more Holocaust victims didn't get the chance to be heard, but I also think that's part of the reason why the voices we have gotten are so important, including Anne Frank's.