I'm taking a Youtube tag and doing it as a blog tag instead again. This tag was created by
emmmabooks
on Youtube. I'm doing it after I saw
malarayofsunshine
do it in a video. As you can tell from the title, these are all "totally should've" questions about books.
1. Totally should've gotten a sequel...
This is difficult for me because, if for no other reason, I feel like everything already has a sequel. I was looking through my absolute favorites list, and while there are stand-alone books there, there aren't any that I feel like warrant a sequel. (But let's be honest, I'd still read a sequel if one was written.) I'm going to go with
The Witch of Blackbird Pond by Elizabeth George Speare
. It's not easy to say why I made that decision without spoiling the book. The story wraps up nicely, and I'm not sure what the characters would get up to in book two. But now I'm thinking up several ideas that I
might like to see yet will never happen.
2. Totally should've had a spin off series...
Here's the most shocking answer I've ever given:
Harry Potter
. I debated choosing something unique for a bit, but no, we all know I'd want a spin off Harry Potter series more than anything else. Yes, there's Fantastic Beasts, which technically counts, and the play, which also technically counts. However, since neither of those are in book form (I think think Fantastic Beasts counts here), I think it's still a valid answer. As for what the spin off would be, who doesn't want a Marauder Era series? Though I'd take just about anything else too.
3. An author who should totally write more books...
I'm going to choose
Maureen Johnson
for this because I'm impatiently waiting for the next Shades of London book. But I also feel uncomfortable choosing her because I know she's been dealing with health issues. I don't want to rant about not getting the next book when I know it's not her fault. When it does finally come out though, I will be so happy.
4. A character who should've totally ended up with someone else...
This one is tough because I tend to be pretty accepting of canon couples. Even when I dislike one, it's rare that I'll have strong feelings about how one of them should have ended up with someone else. Then I remembered the Uglies trilogy by Scott Westerfeld. So my answer is
Tally
, but I'll keep it vague to avoid spoiling the books. What I will say is that I very much disliked a certain character in that series.
5. Totally should've ended differently...
This is also a tough one because I think I block out endings I'm not happy with. I didn't like the ending of Specials, the third Uglies book, but that goes along with my last answer. If I really hate a ending, I tend to dislike the book as a whole, so it's not so much about how it ended as it is the book overall. Changing the ending wouldn't fix it. The one book I can think of that I enjoyed except for the ending is
Everything, Everything by Nicola Yoon
. Everyone else who reads it seems to love the ending. I really enjoyed the book but felt the ending was a bit off. It was just a bit too unrealistic to me.
6. Totally should've had a movie franchise...
If you'd asked me before
Shadowhunters
was announced, I'd have said that because I really wanted an adaptation of all the books. Now my answer is the
Star-Crossed series by Rachel Higginson
. They're some of my favorite books, and the fact that they're self-published means they have even less of a chance of ever being adapted. I'd be so excited for that though.
7. Totally should've had a TV show...
I'd say Harry Potter if it weren't for the fact that I've already used it in an answer. I'm going to say
City of Blaze by H.O. Charles
. It's been a while, but I raved about this book back when I read it. I still haven't gotten around to reading the rest of the series, but I have such great memories of the first book. I'm still anxious to get to the others. I think it would work well as a big fantasy show, but like
Star-Crossed, it's self-published.
8. Totally should've had only one point of view...
I'd say this for
just about any book with more than one point of view
with only a couple of exceptions. In fact, that's just going to be my answer. I very much dislike shifting point of view in books. (I don't consider omniscient third person to be the same thing, so focusing on different characters that way doesn't bother me.)
9. Totally should have had a cover change...
I tend to think about self-published books when I think about this. I'll be honest, I'm not that fond of a lot of self-published book's covers. However, I'll answer with a different book:
Chasing Mona Lisa by Tricia Goyer and Mike Yorkey.
10. Totally should've kept the original covers...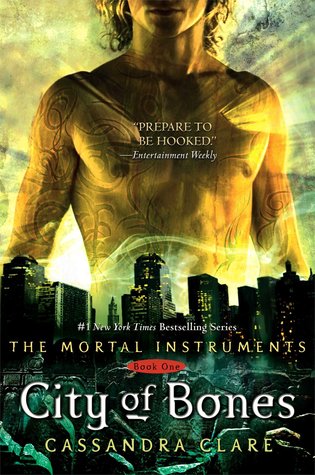 Original cover
I don't like the new covers for the
Mortal Instruments series
all that much. I don't know what it is about them, but I don't. The thing is, I'm not that fond of the original ones either, so it's not like I strongly want them to stick around. I just don't like either of them all that much.
11. Totally should've stopped at one book...
This is hard because if I get excited about the first book, I typically like the rest of the series, even if it's not quite as much. I'm going to choose
Peeps by Scott Westerfeld
for this. The thing is, I haven't actually read past the first book. The first book just feels so much like a standalone that I don't know what the sequel does. From what I've read, it is basically a separate story, which I think is the only thing they could have done.