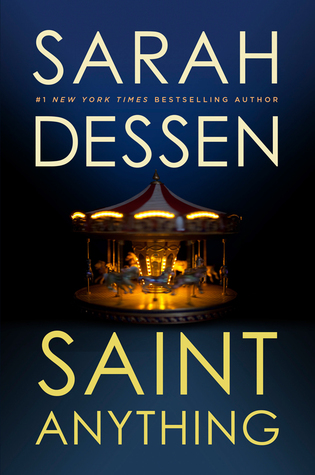 ISBN: 0451474708
Published: May 5th, 2015
Publisher: Viking
Read from January 3rd to 10th, 2015
Synopsis from
Goodreads
:
Peyton, Sydney's charismatic older brother, has always been the star of the family, receiving the lion's share of their parents' attention and—lately—concern. When Peyton's increasingly reckless behavior culminates in an accident, a drunk driving conviction, and a jail sentence, Sydney is cast adrift, searching for her place in the family and the world. When everyone else is so worried about Peyton, is she the only one concerned about the victim of the accident?
Enter the Chathams, a warm, chaotic family who run a pizza parlor, play bluegrass on weekends, and pitch in to care for their mother, who has multiple sclerosis. Here Sydney experiences unquestioning acceptance. And here she meets Mac, gentle, watchful, and protective, who makes Sydney feel seen, really seen, for the first time.
The uber-popular Sarah Dessen explores her signature themes of family, self-discovery, and change in her twelfth novel, sure to delight her legions of fans.
Review:
Sarah Dessen is one of my favorite authors. She also happens to be the first young adult author I remember reading back when I was fourteen. I remember reading Just Listen and feeling really mature because of it, and I've been reading her books ever since.
I also got lucky enough to meet her on the book tour for this book at the beginning of last summer. Now only did I get my copy of Saint Anything signed, but she also signed that copy of Just Listen that I bought at fourteen and my copy of This Lullaby which has, for years, been my favorite of her books.
All of that influences my review I think. It took me a year to actually read this book, which is ridiculous. Most of it comes down to me trying to read all of the older books I had sitting around before I got to newer ones, but I'll also admit that the anticipation of having a new Sarah Dessen book on my shelf that I have yet to read is a nice feeling.
I knew I would like this book going into it. Not only do I like Sarah Dessen's books in general, but this one received so much praise after it came out. It felt like even more than what I remember from previous book releases of hers, and it had me very hyped up about this book. Luckily, I wasn't disappointed in that regard.
Remember how I said that This Lullaby has been my favorite for years? I honestly just don't know anymore. I'm reluctant to say it isn't for nostalgia reasons if nothing else, but Saint Anything blew me away. Typically I would worry that this is a case of me getting caught up in something new and nothing more, but I've never had this reaction to a Sarah Dessen book since reading This Lullaby.
Saint Anything both felt like a Sarah Dessen novel and also like something more at the same time. There was a different quality there that led me to forget at times who the author is. Now, I love all of her other books, so this isn't a criticism of them. I enjoy having that familiar Sarah Dessen feel when I read her books. It's a good feeling. And I still felt that to a certain extent with Saint Anything, but I also found myself forgetting sometimes who had written the book.
I feel like that almost creates a conundrum. I fell absolutely in love with this book, but I also wonder if I would recommend it to someone if it were the first Sarah Dessen book they were going to read. Maybe I would want to point them towards a book that feels more quintessential Sarah Dessen to me, but at the same time, I want to just recommend this book to everyone regardless. I don't know.
When it comes to my feelings about Saint Anything though, I'm just going to go ahead and say it's tied with This Lullaby as my favorite Sarah Dessen book. For now. We'll see what conclusion I come to in the future.
I also realize that there's so much that happens in the book that I haven't mentioned in this review. While I debated for a bit over whether or not to talk about that, I decided not to. There's a lot I would really like to say about the characters and their actions, but I went into this book knowing almost nothing about the plot. While I typically don't care about that sort of thing, I liked it in this case, so I'm going to keep quiet about most of it. What I will say is that I found all of the characters compelling, although often in a very frustrating way, and I enjoyed the way everything felt so realistic even though that meant spending a good portion of the book feeling angry. I think that, more than anything else, is what the book managed to do so well.