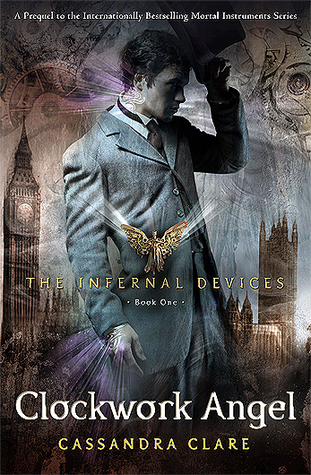 ISBN: 1416975861
Published: August 31st, 2010
Publisher: Simon & Schuster, Margaret K. McElderry
Received: purchased
Read from February 19th to February 23rd, 2017
Synopsis from
Goodreads
:
In a time when Shadowhunters are barely winning the fight against the forces of darkness, one battle will change the course of history forever. Welcome to the Infernal Devices trilogy, a stunning and dangerous prequel to the New York Times bestselling Mortal Instruments series.
The year is 1878. Tessa Gray descends into London's dark supernatural underworld in search of her missing brother. She soon discovers that her only allies are the demon-slaying Shadowhunters—including Will and Jem, the mysterious boys she is attracted to. Soon they find themselves up against the Pandemonium Club, a secret organization of vampires, demons, warlocks, and humans. Equipped with a magical army of unstoppable clockwork creatures, the Club is out to rule the British Empire, and only Tessa and her allies can stop them...
Review:
The most interesting aspect of the Infernal Devices for me, from the very beginning, was getting to read about a fantasy world that I was already familiar with but now it was set in Victorian England instead of modern-day New York City. Of course, if a fantasy world exists in our time, it must have existed earlier, but it's not as common to read about in modern fiction (at least not in my experience).
This book also has a steampunk feel, including automatons that are essentially robots except infused with demon energy. It's those automatons, I believe, that most set the Infernal Devices apart from the Mortal Instruments in feel. I can't imagine having seen automatons in the first series. It's an interesting contrast since in the Mortal Instruments we don't see any combination of magic and technology, yet here we have it more than a century earlier. Perhaps the automatons played a role in that? It would be an interesting connection.
To be honest, the characters were probably the least interesting part of the book for me, which is the complete opposite of how I feel about the Mortal Instruments. I knew from the beginning that I would find Will a frustrating character (And having already finished the second book as I edit this review, you don't have to tell me what happens with him later. I'll discuss it in that review.). Jessamine and Henry have the most memorable personalities of all of the characters, but for the most part, they all seem mostly the same. Even Magnus seems to have a far more muted personality in this book than in the Mortal Instruments, and I'm not sure if that's meant to be because of the time period or not.
I am looking forward to reading the rest of the series largely because I'm interested in seeing what happens with the automatons. They're creepy in a way that makes them rather fascinating, and I'm hoping that stays true during the second and third books.