ISBNs: 1416975888 and 1406321346
Published: December 6th, 2011 and March 19th, 2013
Publisher: Simon & Schuster, Margaret K. McElderry
Received: purchased
Read from March 4th to 19th, 2017
Synopsis (of Clockwork Prince) from
Goodreads
:
In the magical underworld of Victorian London, Tessa Gray has at last found safety with the Shadowhunters. But that safety proves fleeting when rogue forces in the Clave plot to see her protector, Charlotte, replaced as head of the Institute. If Charlotte loses her position, Tessa will be out on the street—and easy prey for the mysterious Magister, who wants to use Tessa's powers for his own dark ends.
With the help of the handsome, self-destructive Will and the fiercely devoted Jem, Tessa discovers that the Magister's war on the Shadowhunters is deeply personal. He blames them for a long-ago tragedy that shattered his life. To unravel the secrets of the past, the trio journeys from mist-shrouded Yorkshire to a manor house that holds untold horrors, from the slums of London to an enchanted ballroom where Tessa discovers that the truth of her parentage is more sinister than she had imagined. When they encounter a clockwork demon bearing a warning for Will, they realize that the Magister himself knows their every move—and that one of their own has betrayed them.
Tessa finds her heart drawn more and more to Jem, but her longing for Will, despite his dark moods, continues to unsettle her. But something is changing in Will—the wall he has built around himself is crumbling. Could finding the Magister free Will from his secrets and give Tessa the answers about who she is and what she was born to do?
As their dangerous search for the Magister and the truth leads the friends into peril, Tessa learns that when love and lies are mixed, they can corrupt even the purest heart.
R
eview: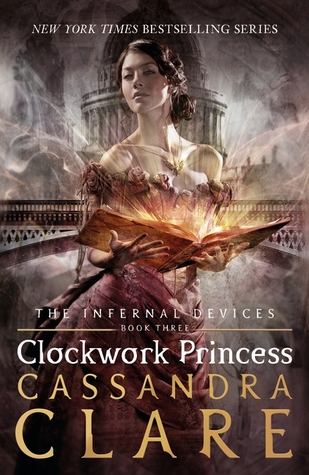 I read Clockwork Prince and Clockwork Princess one right after the other, so it's very difficult for me to remember where one ended and the other began. Because of that, I'm going ahead and combining my review for them both, but I am going to try to keep spoilers to the minimum, especially for Clockwork Princess.
One aspect of the Infernal Devices series that I enjoyed was the focus on how, while sexism works differently in Shadowhunter society, it's still there and greatly affects all of the female characters in the series. I read a blog post by Cassandra Clare recently that discussed how she purposefully showed different ways sexism affected women in that period through different characters, and I think that became especially prominent in this book.
In my Clockwork Angel review, I said that I strongly disliked Will. I had written that review when I was about halfway through Clockwork Prince, so I knew I was going to have to discuss how my feelings had changed after the first book. Here's the thing: I did come to like Will in the last two books. He was a great person who I loved in the last two books. I do get why he acted how he did in the first book, and I appreciate that there was a reason for it as opposed to it just being how he is. However, I will still say that how he acted in the first book was playing into a trope that I flat out despise in male characters. Because of that, there's a part of me that's still annoyed by it purely because of that strong distaste that I already held for the trope, and it makes me feel a little annoyed with the first book despite what happens later.
The friendship that develops between Magnus and Will was a highlight of Clockwork Princes especially. We know, perhaps more from the Mortal Instruments than this series, how Magnus has always been treated by Shadowhunters, and to see his surprise when Will doesn't treat him like that was nice.
Charlotte and Henry are another favorite of mine on the relationship front. They're both endearing characters. I mentioned in my Clockwork Angel review that most of the characters felt very flat but Henry was an exception. I will say that this book turned that around, with all of the characters feeling far more fleshed out, which led to me feeling far more attached to them than I had after the first book. Because Henry had been one of the few characters I was drawn to during the first book, however, I feel like I have a special soft spot for him, and Charlotte I just love because she puts up with so much to be taken seriously despite being the best leader in this entire series. The best couples are always the ones where you love both characters separately and as a couple, and Charlotte and Henry fit that description for me.
Another couple that surprised me in this book was Sophie and Gideon. They were also adorable. I appreciated that Gideon immediately shattered what I may have thought about him from what we hear secondhand in the first book. I also absolutely adored the way Sophie spoke her mind to him.
The love triangle between Jem, Tessa, and Will is also at its most dramatic in Clockwork Prince (even more so than in Clockwork Princess I think). I really like how the love triangle plays out in comparison to most love triangles. One aspect of love triangles that annoys me the most is the constant fighting and such between the two love interests, so Jem and Will's deep love for each other provides a nice change. While it's somewhat heart breaking to see Will hide his own love for Tessa because of how much he wants both Jem and Tessa to be happy, it also manages to be heart warming at the same time. It's just really nice to see how strong Jem and Will's friendship is and to know that Will cares far more for Jem and Tessa's happiness than his own. (Plus, you see enough to know that Jem would do the same if their roles were reversed and he knew about Will's feelings.)
There are a million and one things I could say about every relationship within the Will, Jem, Tessa triangle, but I'm going to refrain myself. Otherwise I'd never finish writing this review.