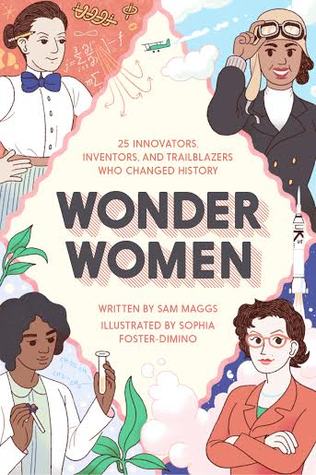 ISBN: 1594749256
Published: October 18th, 2016
Publisher: Quirk Books
Received: giveaway
Read from April 13th to 15th, 017
Synopsis from
Goodreads
:
You may think you know women's history pretty well. But have you ever heard of. . .
· Alice Ball, the chemist who developed an effective treatment for leprosy—only to have the credit taken by a man?
· Mary Sherman Morgan, the rocket scientist whose liquid fuel compounds blasted the first U.S. satellite into orbit?
· Huang Daopo, the inventor whose weaving technology revolutionized textile production in China—centuries before the cotton gin?
Ever heard of Allied spy Noor Inayat Khan, a woman whom the Nazis considered "highly dangerous"? Or German painter and entomologist Maria Sibylla Merian, who planned and embarked on the world's first scientific expedition? How about Huang Daopo, the inventor who fled an abusive child marriage only to revolutionize textile production in China?
Smart women have always been able to achieve amazing things, even when the odds were stacked against them. In Wonder Women, author Sam Maggs tells the stories of the brilliant, brainy, and totally rad women in history who broke barriers as scientists, engineers, mathematicians, adventurers, and inventors, complete with portraits by Google doodler Sophia Foster-Dimino. Plus, interviews with real-life women in STEM careers, an extensive bibliography, and a guide to women-centric science and technology organizations—all to show the many ways the geeky girls of today can help to build the future.
Review:
Wonder Women
showcases the stories of a number of women in a variety of fields. There was so much diversity within these stories that I never found myself bored while reading. Every single woman in this book lived a fascinating life and did something both impressive and important to the world, yet I had heard of very few of them prior to reading
Wonder Women
. That's a huge shame and one of the reasons why I'm grateful that this book exists and that I read it.
The writing style of the book is also fantastic. Each and every story is told in a fun, humorous way that nonetheless manages to be serious when it's important to be. It made me want to read more from the author.
This book is one that I would highly recommend to almost anyone.